Helgesen News
Submitted by

frontpor

on Thu, 11/21/2013 - 10:05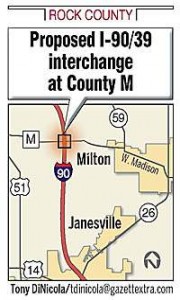 MILTON—City of Milton officials are working with a local developer and landowners to revive a plan to bring an interchange and a large-scale industrial park to Interstate 90/39 and County M.
The city hasn't had public discussions about the plans, but Milton Mayor Brett Frazier and Janesville developer Jeff Helgesen confirmed Monday they've had meetings in the last two weeks with landowners and the state Department of Transportation about whether an interchange at County M could be viable.
Helgesen confirmed his company, Helgesen Development, plans to bankroll an Interstate Access Justification report—a study that's a prerequisite for state and federal approval to modify an Interstate highway.
Helgesen said the study could take 12 to 18 months and would finish as the DOT continues to work on designs for the planned I-90/39 expansion, which is set to start in 2015. Work on the Milton portion of the Interstate is set to start in 2016 or 2017, officials have said.
Meanwhile, Helgesen said, he's got a development plan that's in "very preliminary stages," but has financial backers and buy-in from landowners to build out a 600-acre industrial development along County M near I-90/39.
He said one of the potential sites is a farm property at the northwest corner of that intersection now owned by Mulder Dairy Farms.
Helgesen said his plan eventually could bring between 3,000 and 4,000 jobs, with development of approximately 4 million to 5 million square feet of industrial space. The development could bring in $200 million to $250 million in additional tax base.
The Milton City Council late last month approved the city exploring further an interchange at County M.  
The city earlier discussed an interchange at County M in 2005 and 2010, but both times the idea failed to gain traction viagra sverige. City officials considered costs for studies of an interchange "prohibitively expensive," and in 2010 developers were relatively inactive, Frazier and City Administrator Jerry Schuetz said. 
"What changed from then to now is that a private developer believes that there is substantial potential for development there," Frazier said.
Schuetz put it another way.
"The iron suddenly is hot," he said.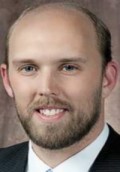 Frazier said he'd met with DOT officials about adding an interchange at County M about a month ago after property owners on County M approached him about it.
"They (the DOT) said, 'Come back with a plan, partner this with something real, a developer, a letter of intent, something tangible that indicates it's not just a concept but it's a possibility,'" Frazier said.
Two weeks ago, Frazier brought Helgesen and several farm landowners along County M back to the DOT for another meeting. Helgesen said the development plan and the idea of an interchange at County M were well received by the DOT.
"We've heard of no obstacles (from state officials) so far," he said.
Schuetz said the interchange idea—and potential plans for an industrial park near the interchange—at this point are "developer driven" with "substantial interest from the city of Milton" and city of Janesville officials.
Much of the land along County M now is in the town of Milton, but it also falls under an extraterritorial agreement between the town and the city, Schuetz said.
The town of Milton has not been in recent discussions over the potential interchange, Schuetz said.
The Gazette was not able to reach Town Chairman Bryan Meyer for comment Monday. Meyer, who is a member of Milton Joint Fire Commission, has in the past expressed interest in a County M interchange for better emergency and public safety access to I-90/39.
Town and city of Milton fire and police vehicles can reach I-90/39 only by driving to  interchanges at Newville or Janesville.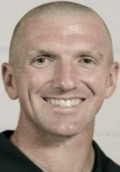 Schuetz and Frazier said the expansion would be a boon for public safety and job creation in Milton and Rock County, along with potential expansion of the tax base. Frazier said he's come to understand the jobs would be "high end, high skills manufacturing jobs."
Helgesen said his development group is interested in building along County M because of its proximity to rail and I-90/39 and its flat, stable ground. He said national corporations have expressed interest in locating between Chicago and Madison, but large-scale land with access is hard to come by.
"We have got some fundamental problems dealing with where there's available land for industrial use," Helgesen said, noting that many available areas in southern Rock County are either too hilly or in townships with landowners who are reluctant to embrace development.
It's not clear yet who would bear costs of building an interchange or infrastructure maintenance or how the city of Milton or adjacent local governments could handle potential annexation of properties.
Schuetz said it's part of the city's investigative process to look at those costs to decide whether it would want to tax residents for an interchange, maintenance of County M, or additional infrastructure costs. 
Schuetz said he's in talks with Janesville over potential inclusion of a County M interchange in the city's Metropolitan Planning Organization highway plans. That could make some costs eligible for grant funding, he said.
Schuetz said the revival of the interchange plan—which the Milton City Council discussed only in closed session to "avoid public obligation" while mulling potential city costs—couldn't have come at a better time.
"The timing, the Interstate expansion coming is important. It's great to have developers in tandem pursuing what would be a good thing," Schuetz said.
By Neil Johnson
[email protected]