Helgesen News
Submitted by

frontpor

on Tue, 09/23/2014 - 14:39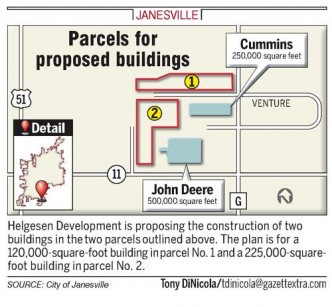 JANESVILLE—A deal between local Developer Jeffrey Helgesen and the city of Janesville to add 350,000 square feet of industrial space on the south side business park is a go.
The city council on Monday unanimously passed a tax increment financing deal worth $2.4 million for two future industrial buildings Helgesen would build on speculation
køb cialis
.
Under the deal:
-- The city would pay Helgesen $845,000 in incentives including land for development of a $120,000-square-foot building on 25 acres at 202 W. Venture Drive which would sit on 25 acres. The development would generate $4.3 million in taxable value a year, according to the city.
-- The city would pay Helgesen $1.6 million in incentives and for land for a 225,000-square-foot building on 25 acres at 401 W. Venture Drive. The city estimates that development would generate at least $8.1 million in taxable value a year.
Both properties are within TIF 35, a city tax increment financing district established in 2011.
The development would create hundreds of thousands of square feet in new building space at a time when economic development officials say there's almost zero vacant industrial space in the city.
Helgesen would have to build the facilities and land tenants within three years or the TIF deal would be void, according to terms of the agreement.
Helgesen does not have tenants lined up for the developments, but he's told The Gazette he envisions industries in robotics, light assembly or distribution could locate in the buildings.
Economic Development coordinator Ryan Garcia told The Gazette he believes a three-year timetable is "probably more time than he (Helgesen) needs" to get the two buildings built and occupied.
Garcia told the council Monday the deal probably wouldn't have happened without the city offering TIF incentives.
Garcia said that in the current market, lending standards are still tight, This is deterring private industry owners from building their own facilities he said. In turn, that makes TIF financing an attractive option for private developers and industry, he indicated.
As some council members pointed out Monday, this can create competition between communities that offer TIF packages. 
"We have to compete, or they (developers and industry) certainly will go elsewhere," council member Brian Fitzgerald said. "We won this time."
Helgesen and the city have worked on terms of the deal for months, including excavation costs to remove a significant layer of spongy clay from parts of the development sites. 
Garcia said the city's not offering additional incentives for soil issues, and at this time it's not offering to provide city-owned fill.
"If there are issues with the soil it won't impact the value of what he builds, that's just going to be a cost he's going to have to undertake," Garcia said. "But that's not perceived as a deal stopper."
By Tony DiNicola